The Office of Cooking Experiments, in its ongoing quest to save amateur cooks from themselves, is pleased to present the latest installment of our cooking guide, tentatively titled Been There, Cooked That. We are also
considering Been There, Done That, Sorry to Say. Or maybe just Sorry. One-word titles are all the rage, and Sorry is usually what we say after our experiments. Once or twice we've even had to say it to the fire department. We make mistakes so you don't have to, that's our motto.

Where were we? Ah, yes. The cooking guide. First of all, amateur cooks …
Crockpots are good; crockpots are our friends. What's so great about crockpots, you ask? We'll tell you: You just throw the stuff in and leave. The food cooks itself. Actually, the crockpot cooks it, but in practical experience, there is no difference. With crockpots, you can forget for whole hours that you are cooking and nothing will be the worse for it. This is not true when you are using the stove or the oven, as the fire department made clear to us.
– Caveat: The pitfall of this is that crockpots cook slowly; we believe this is why some people call them "slow-cookers". Sometimes crockpots cook too slowly. When this happens, and for some reason you cannot wait, such as the natives are rioting, you can pull out the crockpot and finish the food in the oven.
– Caveat on the Caveat: If you do this, do not put the lid of the crockpot into the oven. The handle may melt and drip over the food, and that could ruin it.
A little peppermint extract goes a long way. The good news is that those tiny little bottles of extract are a better value than they look. The bad news is that if you don't know this and you dump half the bottle into your hot chocolate, your hot chocolate will have the refreshing minty taste of mouth wash. And the little bottle of extract will be a bad value after all.
Baker's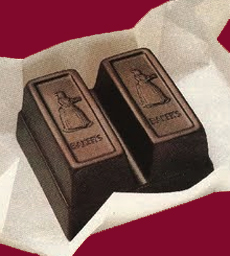 chocolate is unsweetened. This was one of the greatest disappointments of our experiments, even worse than the time we destroyed an entire dish of chicken with red pepper. Chicken is, after all, just chicken, but chocolate is chocolate. And chocolate should be sweet. Baker's chocolate looks like it should be so good, like Godiva or some expensive chocolate with an Italian name. But no. Instead, biting into one of those perfect squares of chocolate, you get …
No. We cannot contemplate it.

You, the amateur cook, will also grow sadder and wiser in the ways of the kitchen. But like us, you will also learn what not to do, until finally you no longer have to say sorry to your family, or at any rate to the fire department.