This is the first half of my interview with Robert Treskillard, author of Merlin's Blade and Merlin's Shadow, books one and two in the Merlin Spiral. Enjoy!
How f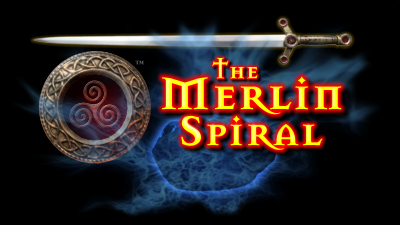 ar back does your interest in King Arthur go?
When I was fourteen I read The Hobbit and The Lord of the Rings, and I fell in love with the concept of kingship, swords, and battles … and soon after that I encountered the lore of King Arthur and became fascinated with those particular legends.
These were just seeds, however, and I hardly read any fantasy at all after that for the next fifteen years.
Then I encountered Stephen Lawhead's SONG OF ALBION series, and this opened my eyes to the merging of faith and fantasy. I quickly devoured just about everything else he had written … even his kids books! This, of course, included his historical treatment of the Arthurian legends, which renewed my interest.
Still … the longings for exploring these legends more deeply laid dormant in me for eleven more years until I began to ponder the question as to "why would someone thrust a sword into a stone?" It made sense to me why you would pull it out, but why was it there in the first place? Every Arthurian author had tackled this question, but none quite satisfied my wonder. Finally, in a burst of inspiration, I came up with the answer … "what if the stone was the enemy and you were trying to kill it?"
That single answer grew into The Merlin Spiral trilogy, as well as the follow on trilogy that's still in the planning stage—The Pendragon Spiral.
In the Arthurian legends there is a wealth of fascinating and imaginatively powerful figures. Why, of all of them, did you pick Merlin to center your story around?
I think because he was so enigmatic, and also because he is so often misunderstood. In the Welsh legends Merlin is a combination of prophet and slightly crazed seer—not a wizard with blue robes and a pointy hat.
Not only that, but many scholars think, based on the era, that Merlin and Arthur would have been Christians. That, too, is often misrepresented.
How did you change Merlin from the original stories and why?
Well, part of that was answered by the fact that I wanted to write the novels for a (primarily) young adult audience. Editorial norms dictated, then, that Merlin be young. So I made him 18 … on the verge of adulthood.
I also made him mostly blind—very reluctantly—but that was dictated by the story. I had an evil stone that needed to do something, so decided, based upon research, that people would worship it. Stones, among many other things, were often venerated by the ancient peoples, including the Celts. Thus I gave the stone the power to make the people who see it want to worship it. So what better way to make Merlin immune than to make him unable to see it?
This created no end of difficulty for a debut novelist, however, as I had to learn to write from Merlin's perspective without relying very much on his sight, which is poor at best. This was good medicine for me, however, and stretched me as a writer.
Keep in mind, though, that in MERLIN'S BLADE I am planting a lot of very small seeds of the more familiar legends, and these will grow and mature as the series progresses.
Why did you choose to use the Druids?
Interesting question! In A.D. 477, the druids were in the unenviable position of having been ousted from religious control of Britain, as Christianity had recently taken root. So then, this is an era of real conflict and fodder for the novelist, providing a powerful backdrop for THE MERLINS SPIRAL.
I've had some complaints that I presented the druids as one-sided, but I would disagree with that assessment. Look at Trothek and Caygek for example. These are druids who disagree with Mórganthu and resist everything he is doing, even to the point of death.
What I am really showing is just one bad example in Mórganthu and his leadership … and then beyond that, the other druids are following him because of the enchantment of the Stone. Thus I am attributing the real source of evil to the stone and to that shadowy figure I call "The Voice". There will be much more about him in book two.
Also, I try to help the reader sympathize with Mórganthu and understand his motivations, especially through what happens to his son, Anviv.
The rest of the interview will be posted tomorrow. Until then, here are some links to chew on:
Merlin's Shadow on Amazon;
Robert Treskillard's website;
Robert Treskillard's blog (incidentally, this is where I got the "Merlin's Spiral" graphic above);

and the blog tour: