Akabe's highest aspiration is to rebuild a holy house for the Infinite.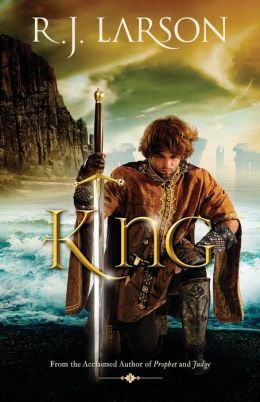 His highest priority is staying alive. As the followers of Atea seek to make him king no longer – in the most final and irreversible way possible – he struggles to stay ahead of the knife's-edge of their schemes.
Choosing an Atean queen would probably not help. But Akabe might see it as necessary, for his highest aspiration.
King follows Prophet and Judge in R. J. Larson's fantasy series; Prophet was one of the finalists for the Clive Staples Award. Spiritually, the book is in an Old Testament era, with a prophet, pagan deities, and hints of the coming salvation; socially, it is in a medieval era, with kings, swords, and lords.
A fantasy element is present, especially in such things as the monster-horse. But it was more limited than I would have expected. I cannot recall one instance of "magic". R. J. Larson had a number of inventive creatures – animals, and not other sentient races; the conception of the "god-king" was intriguing and effectively executed.

King is a strongly spiritual novel, plainly Christian and occasionally echoing biblical stories. The religious themes and conversations felt genuine to the characters and the world. R. J. Larson also blended humor into the novel.
I think I would have enjoyed King more had I read the earlier books of the trilogy. I followed the plot well enough, but I'm sure I missed something. The beginning was slow to me as the author picked up the threads of her story, and it took me a little while to work out the characters' relationships to each other. The denouement was well-done and moving, and would have felt even more so had I known the characters' whole journeys.
With likable characters, a fresh world, and a powerful measure of spirituality, King is a fine addition to Christian fantasy.
R.J. Larson is the author of numerous devotionals featured in publications such as Women's Devotional Bible and Seasons of a Woman's Heart. She lives in Colorado Springs, Colorado, with her husband and their two sons. Prophet marks her debut in the fantasy genre.
 – CTF Devourer – Review
And finally, my piece of the puzzle: