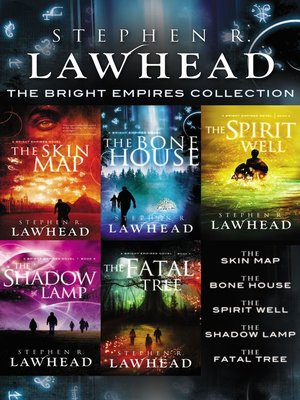 It was four years ago that Thomas Nelson published The Skin Map, by Stephen Lawhead, and so began the Bright Empires series. Every fall since then, a new Bright Empires book has come out: The Bone House, The Spirit Well, The Shadow Lamp. We of the CSFF blog tour reviewed every one, boldly following the intrepid explorers of the multiverse in their travels through time and space, tracing the cosmic snarls with vim and mental acuity and carefully made charts.
The Fatal Tree, the newest Bright Empires novel, came out in October, bang on time. Now the CSFF is touring it – continuing, and concluding, the tradition, for with The Fatal Tree, the Bright Empires series finally comes home.
So come and join us for the last tour. The publisher offered temporary tattoos to the tourers, supposed to resemble the tattoos worn by Arthur Flinders-Petrie, the Man Who Was The Map (long story). The tourers who accepted will be posting pictures of themselves, or someone they know, sporting the tattoos; Julie Bihn has done so already.
I personally will not be sporting any tattoos, but let the record show that I am typing this up wearing glittery nail polish. And now, for the links …
The Fatal Tree on Amazon;
Stephen Lawhead's website;
Stephen Lawhead's Facebook page;
and the (occasionally tattooed) tourers:
Julie Bihn
Thomas Clayton Booher
Beckie Burnham
Jeff Chapman
Karri Compton
April Erwin
Victor Gentile
Jason Joyner
Janeen Ippolito
Carol Keen
Emileigh Latham
Rebekah Loper
Meagan @ Blooming with Books
Rebecca LuElla Miller
Nissa
Jalynn Patterson
Writer Rani
Nathan Reimer
Audrey Sauble
Jojo Sutis
Rachel Starr Thomson
Robert Treskillard
Steve Trower
Shane Werlinger
Phyllis Wheeler