A themed tour through Prism Book Tours.
It's the MISTLETOE KISSES TOUR Grand Finale for
Christmas, Actually
By Anna Adams, Anna J. Stewart, and Melinda Curtis
Three Harlequin Heartwarming novellas, where a sweet kiss takes place under the mistletoe.
Did you miss any of the excerpts, guest post, or reviews on the tour?
Feel free to go back and check out all the stops now!
Launch – Intro to the Collection
Christmas, Actually – three holiday stories about three siblings living in Christmas Town, Maine, where tradition has it that a kiss on Christmas Eve in the town square gazebo will lead to wedding bells in the new year!
Christy's Cozy Corners – An Interview with Anna Adams
How was it decided that the story would take place in Christmas Town, Maine?
We were looking for a setting that spoke of the holidays, and I'd lived in Maine in a town that decorated the green for Christmas. I described it, and someone suggested Christmas Town as a name for our fictional village.
Coffee Books & Art – Excerpt
Snowflakes hit the windshield and splayed into star shapes while Bing Crosby crooned his dreams of a white Christmas. Sophie Palmer tried to sing along, but her mind was already racing up the icy interstate to Christmas Town, Maine, where the father of her unborn child now lived.
The Book Lovers' Lounge – Christmas Town by Anna Adams
And I imagined my own broken hero, Jack Banning, watching from the sidewalk, there in the town, but watching from the boundaries because he doesn't belong any more.
Getting Your Read On – Review
"Yeah, I really loved my time in Christmas Town with the Banning family. Each story was unique and romantic. I loved all the characters. They were real and identifiable. It is the perfect book to curl up with as the days get colder and we get closer to Christmas."
Colorimetry – The Power of a First Kiss by Anna Adams
He's at her house, killing time because he can't go home and face his brother's happiness when another friend calls to offer him an investment opportunity. Mary is leaning against George, also listening on the phone, when finally, he admits to his feelings. He takes her in his arms for a kiss he clearly doesn't want even as he desires nothing in the whole wide world more than the hometown love of his life.
Southern Chelle – Review
"I don't think I've read anything by any of these authors before, but these novellas have me falling hard for their work! I used to receive the Harlequin Heartwarming books monthly, but I didn't have room for anymore paperback books in my house and had to give it up. I'm so glad they've continued these offerings!"
Kelly P's Blog – An Interview with Anna J. Stewart
5. What do you hope readers will take with them after reading your story?
There's nothing better than a happily ever after–that's why I write (and read) romance, but that's kind of the easy answer. I think at its core, the story is about learning how to be open with others, to tell them how you're really feeling about situations that are emotionally damaging them. Dean, Callie and Eliza all have to do this at some point during the story and once they do, the happily ever after is possible.
My Love for Reading Keeps Growing – Excerpt
"Is this a bad time?" The combination of sympathy and amusement shining in green eyes, along with the tamed Irish lilt, called to mind fields of clover dotting rolling hills. She'd spent many a night and more than a few days dreaming of traveling to the Emerald Isle. Now it seemed as if Ireland had come to her.
Shoulder-length, golden-streaked hair brushed the worn leather of the bomber jacket he wore over snug jeans, the hint of a plain white T-shirt peeking from under the collar.
The Wonderings Of One Person – Dream Cast for The Christmas Wish
There are some actors who just "hit" from the second I lay eyes on them. When looking for images of my Dean, I did not have to look much further than Chris Hemsworth.

Casting my heroines has always been problematic for me. Typically, I use another medium for inspiration (I'm a doll collector), but when I saw this picture of Nina Dobrev (Vampire Diaries), I knew that was Callie.
Christian Chick's Thoughts – Review
"The Christmas Date: The instant I started reading this story, I knew I was going to love it. There's just something about those You've Got Mail-esque stories that I love. Nick and Gina are both so likeable, and their chemistry lept off the page. This was easily my favorite of the three stories!"
Bookworm Lisa – Review
"Each of the author's did a great job in telling their story. I liked the descriptions and the characters.
This book is a fun way to get into the holiday season and find a little clean Christmas romance."
fundinmental – My Top Ten Christmas Traditions by Anna J. Stewart
I LOVE Christmas time. Truly, from about Halloween on, I'm all about the tinsel, the trees and the music (why do they have to stop the Xmas carols on the 26th?!). For years now it's just been my mom and me during the holiday season, but we've got our traditions…and they start early…even before we carve the Thanksgiving turkey.
Beck Valley Books – An Interview with Malinda Curtis
What's your favorite aspect of the story?
One of my favorite aspects is Gina's parents. They've tried for years to do what they thought was right and it strained their character and their relationship. This year, they rejoin the pageant and the town's festivities in a very public way. It's a small part of the story, but a set of vignettes that I love.
Mel's Shelves – Review
"I loved seeing the siblings in each other's stories and enjoyed getting to know them. These stories are quick, easy reads which are perfect to get you in the mood for Christmas. I love that they're all clean so I can recommend it to everyone! Christmas Town was a fun place to visit!"
Painted Words – Review
"But what I truly loved about this book was that it didn't feel at all repetitive which can be a big hindrance to books like this especially if written by multiple authors. It was an absolutely beautiful story, one that I look forward to reading again next year at this time and it was the perfect way to start off the season."
I Am A Reader – Melinda Curtis's Favorite Treat at Christmas Time (with recipe)
My mom is a fan of Jell-o salad. At Christmas, she'd serve us a slice of Jello salad on a leaf of lettuce with a dollop of mayonnaise on top. The first time Mr. Curtis had this dish, he happily took a big bite, expecting it to be whipped cream on top. Kudos to him for keeping his disappointment to himself.
Deal Sharing Aunt – Excerpt
In the wee hours of Christmas Eve morning, Gina stood at the edge of the town square and traced the deep, jagged scar that ran from her left temple to her jawline with the tip of a gloved finger, as if her touch could erase the past. The small ball of worry, the one that hadn't let her sleep last night, expanded like bread dough in her chest, pressing against her lungs.
I should have told him.
Wishful Endings – Excerpt (4-star review here)
"Are you kidding? You're beautiful. Why would he do that?
"You have to say that. You're standing in my kitchen." With me practically in your arms. Nevertheless, she hugged his words to her heart. No one had ever called her beautiful before.
JoJo's Corner – 10 Gifts Ideas for Your Teen/Young Adult & Review
I'm a little bit anal about the holidays. I have a basic list I work from that my kids will enjoy or find useful. They're all in college now, but that doesn't mean they want a package of socks for Christmas. Here's a list of 10 suggested gift giving categories for your teen/young adult…
Review: "Christmas, Actually is the perfect collection of stories to cuddle up and enjoy on a cold wintry night!"
Undercover Book Reviews – Review
"Three stories in one book, a great way to start the Christmas season off! Anna Adams takes you on three separate journeys in the life of Jack, Callie, and Gina as each tells their own story. The plot is good in each one."
Katie's Clean Book Collection – Review
What a fun story! The reader is taken on a journey through Christmas Town, Maine and we get to see snippets of what makes this town special through the eyes of three different characters.
Christmas, Actually
by Anna Adams, Anna J. Stewart, & Melinda Curtis
Clean Contemporary Romance
Paperback & Ebook, 202 pages
November 1st 2014 by Harlequin Heartwarming

Discover the magic of Christmas Town, Maine!
Three lonely strangers come to Christmas Town, Maine, and find love with three Banning siblings in the town that celebrates the holidays by decorating its square with lights and ribbons and a holiday pageant on Christmas Eve. Tradition has it that a kiss beneath the mistletoe that night means marriage for the couple in the new year.
The Christmas Gift by Anna Adams:
Jack Banning promised to support the mother of his unborn child… But she doesn't need money, she only needs him.
The Christmas Wish by Anna J. Stewart:
Callie Banning's student has declared war on Christmas, so it's up to her to help the little girl—and her widowed father—believe again.
The Christmas Date by Melinda Curtis:
Gina Vernay is about to meet her online mystery date…and she's in for the surprise of a lifetime!
Amazon – Barnes & Noble – Harlequin – iTunes
About the Authors
Anna Adams wrote her first romance in wet sand. The Atlantic Ocean washed it away, but Anna kept going. Her stories are of love, like the proverbial stone in a lake, making ripples that spread and contract and involve. From Iceland to Hawaii, and points in between, Anna and her own hero share with children and family and friends who've become family. All this living and loving gives Anna plenty of fodder for stories of love set in real life. Come along and live them with her!
Website – Goodreads – Facebook – Twitter – Pinterest
Anna J. Stewart can't remember a time she didn't have a book in her hand or a story in her head and credits her mother never saying no to a book for turning her into a writer. Anna lives in Northern California with an overly attentive cat named Snickers and is happiest when setting her heroes and heroines on their road to happily ever after amidst family, fun and laughter.
Website – Goodreads – Facebook – Twitter – Pinterest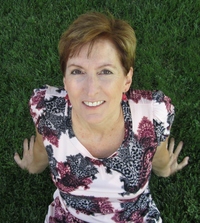 Melinda Curtis grew up on an isolated sheep ranch, where mountain lions had been seen and yet she roamed unaccompanied. Being a rather optimistic, clueless of danger, sort she took to playing "what if" games that led her to become an author. She spends days trying to figure out new ways to say "He made her heart pound." That might sound boring, but the challenge keeps her mentally ahead of her 3 kids and college sweetheart husband.
Website – Goodreads – Facebook – Twitter – Tumblr – Pinterest
Tour-Wide Giveaway
– Gift Card Prize Pack: $20 Amazon gift card and ebook of Christmas, Actually (open internationally)
– US Prize Pack: Paperback of Christmas, Actually and three Christmas ornaments (US only)
– 3 ebooks of Christmas, Actually (open internationally)
Ends November 30th